Infinite Martial Arts & Fitness
Return to Directory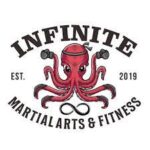 About Us
The purpose of Infinite Martial Arts & Fitness is to create strong individuals that are disciplined and confident. We believe that every student, and every person that walks in our doors has hidden potential. People just need to be believed in.
We offer a variety of programs. Infinite Martial Arts & Fitness has a full Muay Thai program for ages 8 and up. In addition, we have a complete amateur boxing program for adults with high level instruction. Our Strength and Conditioning program runs evenings & helps build functional fitness. The Muay Thai program goes from beginners to advanced athletes. Our Muay Thai, Grappling & Boxing programs are perfect for those interested in Mixed Martial Arts (MMA).
From weight loss & stress relief, to self-defense and self-respect Infinite Martial Arts & Fitness purpose is to make strong students. We want to get people to their best.