This story was published in the Winter 2023 issue of Total Sports Quinte magazine
Story by Jeff Gard/Total Sports Media
Having been raised in Tyendinaga, Noah Brant appreciates the opportunity to continue playing hockey so close to home with the senior A Deseronto Bulldogs, which play in the Eastern Ontario Super Hockey League.
Brant, now 22, played minor hockey at home in Deseronto for a short time and continued around the Belleville area, including with the Quinte Red Devils AAA organization. He played four seasons of junior hockey, including one with the junior A Powassan VooDoos of the Northern Ontario Junior Hockey League in 2019-2020 after spending two seasons with junior C Picton Pirates of the Provincial Junior Hockey League. He returned to Picton to close out his junior career last season before joining Deseronto for the 2022-23 EOSHL campaign.
"It's great to stay in a competitive loop," Brant said. "Being close to home is nice with the support and everybody that comes and watches, everybody that loved to watch me play hockey and thought it was over."
Brant said "it was awesome making the jump" to the EOSHL and that "it's fun hockey, fast hockey."
He's proud of his hockey journey to get to this point.
"I played with Deseronto a couple years, there wasn't much hockey around here for the competitiveness I was looking for so I played around Belleville," Brant said. "Being Indigenous and playing hockey, it was hard, the racial stuff was hard because you heard lots of it, but it was a privilege to play being Native and representing my community wherever I went with it."
It's gotten easier over the years, especially thanks to the Every Child Matters movement and the subject being brought to the forefront.
"A lot of people are opening up to it, they're understanding it," Brant said. "A lot of people are wanting to learn about it and they're including us more as who we are."
Brant certainly feels right at home with Bulldogs and the Deseronto club receives lots of support from Tyendinaga Mohawk Territory.
Landon Punchard, who is an owner, president and player with the Bulldogs, said the club has one of the best fan bases in the EOSHL.
"Our fan base is largely people from the reserve and from Deseronto," Punchard said. "We definitely get a lot of support from Indigenous people who come to our games. We average 200 or more fans for every home game so the support has been incredible to say the least."
That includes sponsors from Deseronto, Tyendinaga and other area communities.
"Our sponsors are amazing," Punchard said. "None of this would be possible without our sponsors."
Punchard helped bring senior A hockey to Deseronto for the 2019-2020 season. Having been involved for many years with Deseronto Minor Hockey, he thought the community would be a perfect fit for an EOSHL club, especially since there was ice time available Saturday evenings.
"I've been the referee-in-chief there so I always knew that Deseronto was a hockey community and was surrounded by many other very passionate hockey communities as well," Punchard remarked.
"My dad is also from Deseronto so it is a town that I hold close to my heart for certain reasons. Just through being involved in minor hockey, I knew that it was an opportunity to grow the game in Deseronto."
Bulldogs head coach Steve Durnan echoed the sentiment and said there's a special connection between the players and fans.
"I think we have the best fans in the whole league," Durnan said. "They're out, they're supporting, I think we have the biggest fan base that come out and support our team. The guys get pumped, the fans all love our players and the players are great with the fans. I think it's a great joint effort between the team and the community."
This season the Bulldogs are carrying 32 rostered players plus one on long-term injury reserve with many familiar names to local hockey fans. In addition to Noah Brant, the rest of the roster includes Brodie Maracle, Joey Mayer, Jordon Cannons, Austin Labelle, Ryan Dreossi, Shamus Barr, Mitch Merry, Braydan Forestell, Luigi Martone, Carter Thornton, Will Harrison, Brodie Butt, Griffen Conger, Brett Maracle, Garry Smith, Landon Punchard, Michael Anson, Nate Boomhower, Cullen Hinds, Jonny Hill, Greg Arnburg, Matthew Panetta, Chris Rogalsky, James Nolan, Ethan Coens, Connor Burns, Josh Lemmon, Brandon Torres and Nate Kellar.
Durnan said it's great to have so much commitment this year from the players.
"We're not travelling to away games with 12 or 13 players," he said. "Every week we're having to pick a lineup so we're getting 22-23 guys on a regular basis that are wanting to play, that we have to actually pick which is really hard because we have a lot of great players that are (committed to) playing and not able to play."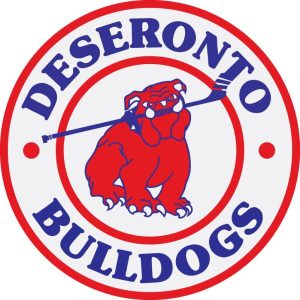 By late January, the Bulldogs had already reached eight wins – their most in three season. They had five in both the 2019-2020 and 2021-2022 seasons. The 2020-2021 campaign was wiped out due to COVID restrictions.
"We're a very skilled roster and we have a lot of really good hockey players. It's just a more well-rounded hockey team I think than we've had in the past, just kind of compliments each other and is more of a cohesive group," said assistant coach Brandon Tucker. "I think that's kind of showing in our record and the improvement we've had year over year and where we are now."
Deseronto Bulldog home games, when scheduled, are Saturdays at 6:30 p.m. Upcoming home games at the Deseronto Community Recreation Centre to close out the regular season are Feb. 4 against the Gananoque Islanders and Feb. 11 against the Cornwall Prowlers.
Check out eoshl.hockeyshift.com