The Stampkrete QRD U12's travelled to Whitby on the weekend to participate in the prestigious Silver Stick Tournament.  On Thursday, they opened the tournament with a win over the Elgin-Middlesex Chiefs by a score of 3-1.  Scoring for Quinte was Lauchlan Whelan from Joey Seguin, Brechyn Aird, and Coen Lowry from Ewan Dahle and Trent Clow. Ryerson Swan secured the win in net.
On Friday QRD faced off against a strong Oakville Rangers squad.  Oakville opened the scoring and potted another to go up 2-0 halfway through the game.  However, Quinte would storm back with Drew Wright and Ewan Dahle both scoring unassisted goals to even out the game at 2 goals a piece.  Quinte would then take the lead in the 3rd with Hudson Brown scoring from in tight, assisted by Trent Clow and Brechyn Aird. Oakville would go on to get the equalizer late in the game to end the affair in a 3-3 tie.  Nathan Ferriss took the tie in net.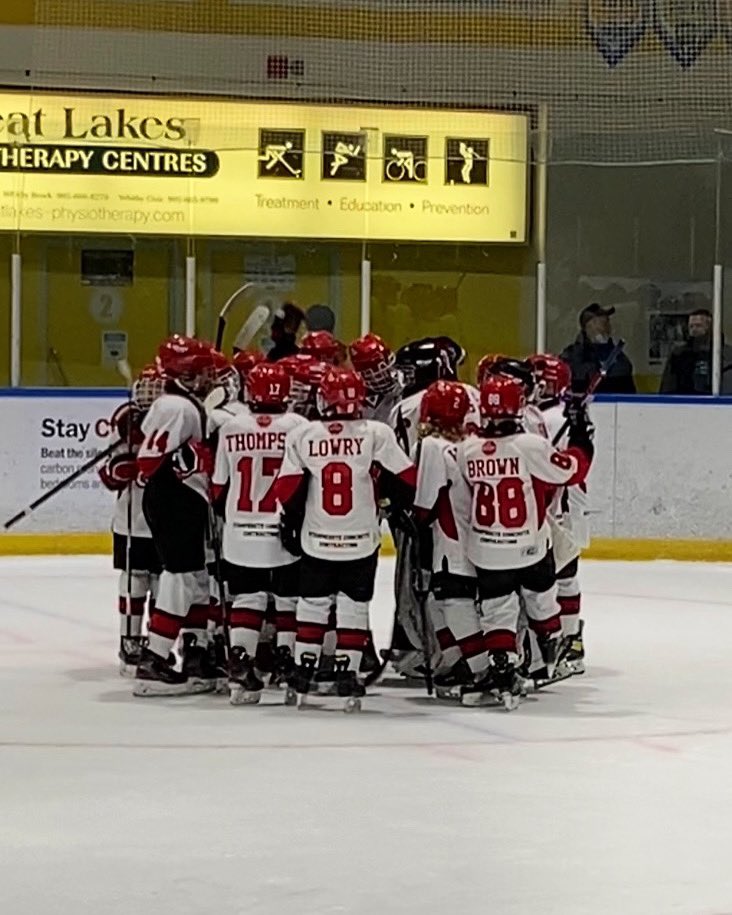 In their 2nd game on Friday, QRD played the #1 ranked team in the province, the Vaughan Kings. The Stampkrete QRD U12's played arguably their best game of the season as they would go on to win the tight checking affair 2-1. Scoring in the win was Ewan Dahle from Trent Clow and Coen Lowry, and Lowry from Maeve Aird and Hudson Brown.  Ryerson Swan played outstanding in the victory!
On Saturday QRD played their final round robin game of the tournament against the Sudbury Nickel City Sons.  It was all Quinte in this one as they skated to a 4-0 win.  Scoring for QRD was Coen Lowry (x2), Drew Wright and Dawson Chalk.  Assists were awarded to Maeve Aird (x2), Joey Seguin, Easton Thompson, Trent Clow, and Ben Hunt.  Nathan Ferriss made some timely saves, shutting the door for Quinte and securing the shut-out!
With a 3-0-1 record after round robin play, QRD would place 1st in their pool and secure the 2nd seed going into the quarter-finals on Sunday.  Facing off against a strong Soo Jr. Greyhounds team, they battled right to the end. However, an empty net goal for the Greyhounds would seal QRD's fate as they dropped the contest 4-2.  Joey Seguin and Easton Thompson scored for Quinte.  Lauchlan Whelan, Thompson, Coen Lowry, and Kalum Phillips assisted on the goals.  Ryerson Swan made some timely saves in the net to keep this one within reach.
Next Up: Tuesday Nov.30th vs. Central Ontario Wolves (7pm in Marmora)
Dec.3-5th The Canadians Cup Tournament (Toronto)