This story was published in the Winter 2023 issue of Total Sports Quinte magazine
With the return of high school sports to a more regular schedule this fall, the Bayside Secondary School Devils enjoyed tremendous success.
Accomplishments, both as teams and individuals, were achieved in cross-country running, football, golf, rugby, soccer and more.
Bayside's senior boys cross country team won the Central Ontario Secondary School Athletics (COSSA) championship and advanced to the Ontario Federation of School Athletic Associations (OFSAA) provincial meet Nov. 5 in Uxbridge.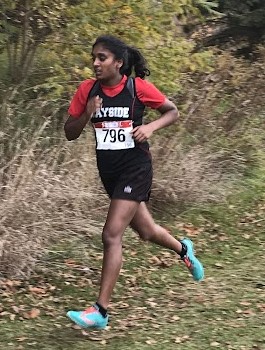 As a team, Bayside placed 15th out of 35 entries in the senior boys 6K race with 488 points as teams aim for lowest point possible based on their four competing runners (the top four from regional meet). Tristan Daoust placed 23rd followed by Andrew Lupenette (76th), Griffin Wanless (169th) and Kidan Singer (220th) out of 245 runners.
Meanwhile, Bayside's Tamara Singaraja qualified for OFSAA as an individual. She had placed eighth overall at the COSSA race and as one of the fastest individuals not on a qualifying team ultimately earned a berth at the provincial championships. At OFSAA, Singaraja placed 140th out of 240 entrants in the senior girls 6K race.
In football, Bayside won what's believed to be its first Bay of Quinte championship at the senior level in school history. They lost the COSSA senior AAA championship game to Peterborough's Thomas A. Stewart, which went on to the OFSAA Independent Bowl against St. Michael's College, but it was a very successful season for the Devils.
Russell Aide, meanwhile, represented Bayside at the OFSAA boys golf championship in London Oct. 12 and 13.
Aide, a Grade 10 student, won COSSA gold at Barcovan Golf Club after chipping in for birdie on the 18th hole to force a playoff. He finished ninth overall at OFSAA, shooting an 80 in both rounds, despite some difficult weather conditions.
Bayside's senior girls rugby team won both the Bay of Quinte and COSSA championships in the fall and have qualified for the provincial tournament in the spring.
Following a 7-0 unbeaten record in regular season play, they defeated Centennial 5-0 in the Bay of Quinte final and Lindsay's I.E. Weldon in the COSSA 'AAA' final.
The OFSAA girls AAA rugby championship in scheduled for June 5 to 7 in Bolton.
In senior boys soccer, Bayside won the COSSA 'AA' championship, defeating Peterborough's Adam Scott Collegiate in the final.
OFSAA soccer is also held in the spring and the boys 'AA' tournament is scheduled for June 8 to 10 in Bradford.
Watch for more at quinte.totalsportsmedia.ca on Bayside teams that head to the OFSAA championships this spring.